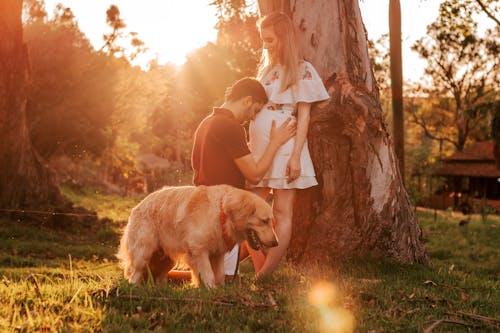 Things to do when you find out you're pregnant.
You wake up one morning and notice you're feeling a bit "off." You're probably thinking it could be that burrito you had the night before that's making you feel nauseous. Or maybe you're just tired from who knows what. Then, you realize you've missed your period and there is a possibility you may be pregnant!
Funny thing is, that wasn't the case for me! I had dealt with irregular periods since the moment I got it. If you've read my story, then you'll know I went in for a pap smear and was told that I was pregnant!
I've put together a list of 7 things do when you find out you're pregnant. This is what I did, but you can tweak the list a bit if these tips won't work for you. 😉
1.) START TAKING A PRENATAL VITAMIN
If you were trying to get pregnant, you're probably already taking one. However, if you have a story similar to mine, start taking one now! Your baby will soon start to take the vitamins you're currently getting, and that's where taking extra from a prenatal vitamin comes in.
There are so many prenatal vitamins on the market, but I decided to do a little research on a vitamin that was good not only for me but for my growing baby, as well. It's very important that you're getting folic acid, iron, and calcium. After looking into different options, I decided to take the Garden of Life- Raw Prenatals.
2.) DECIDE WHEN TO ANNOUNCE IT TO FRIENDS AND FAMILY
My husband and I are so bad at keeping secrets! We decided to tell our family first but asked them to please keep it to themselves. I had this fear that if something happened, I didn't want to go telling all of my friends. So, we waited until I was closer to the second trimester to share the great news with our friends. The nice thing was that I didn't really start showing until I was past my second trimester! The perks of being tall 🙂
It's really up to you when you decide to share the news, but don't stress over it, either. We all know the baby is most vulnerable during the first 12 weeks, so don't feel guilty if you decide it's best to wait.
3.) DOWNLOAD A BABY APP
I can't even begin to tell you how excited I was to upgrade my Ovia app to Ovia Pregnancy! I looked forward to the day I would hit another week so I could see what fruit to baby size comparison my app shared with me as my baby grew.
I loved reading the tidbits that are shared on a week to week basis; have fun with it! You can change the background color, add a sonogram picture and even change the baby size themes to "fun & games," or "weird-but-cute animals."
Looking for affordable Christmas prints?
4.) DOCUMENT YOUR PREGNANCY
I am a huge fan of documenting information I know I'll enjoy looking back at one day. My pregnancy journey was definitely something I wanted to document. After all, it had taken so long for me to conceive! The last thing I wanted to do was forget what my first experience was like. I immediately logged into Amazon and purchased the What To Expect Pregnancy Journal.
I loved that it not only had room for you to document your pregnancy journey, but it had a section for you to write any questions you had for your doctor- this was so convenient!
5.) FIND A WORKOUT PLAN YOU'LL ENJOY
I'm sure the last thing you want to do is a workout, but it's so important for you to be getting in some sort of exercise. This will help you feel a bit more energized; especially when the fatigue starts to hit you during that first trimester. I suggest looking for a program that is fun but not too rigorous and stick to it! There will be days where you don't feel like doing anything, and that's fine, but start right back up the following day and get your butt moving, Mama! Your body will thank you later. 🙂
6.) MAKE A LIST OF THINGS TO DO BEFORE BABY IS BORN
I absolutely LOVE making to-do lists! Whether they're lists for work or things that I need to get done around the house, I love them! So there was no doubt I was going to make a list of things to do before my baby was born. You're probably thinking it is way too early to start making this list, but trust me when I say- you WILL forget something. Check out the 12 Things To Do Before Giving Birth blog I posted not too long ago. I included things even I forgot to put on my list of things to get done. You'll thank me!
7.) TAKE LOTS OF PICTURES!
This pretty much goes hand in hand with number 4. Take before and after pictures, and a bunch in-between! Now that my baby is on earthside, I love looking back at how my body changed while my baby girl was growing inside of me. Being that she was my first, I'd like to compare my bump pictures to the ones I will take when I am pregnant with my second baby! I only gained 18 pounds, so I'm curious to see how my body changes during my second pregnancy!
As I mentioned with the Ovia app- have fun with it! I used the Baby Story app which allows you to edit your pictures and add cute little graphics.
So, with all that being said, congratulations on being pregnant! Depending on where you're at in your pregnancy, try your best to not stress and enjoy it! It's a beautiful thing, as is being a mom! Take your vitamins, snap some pictures, and don't forget to enjoy the feeling of your baby growing inside of you. I know I missed the kicks and hiccups when my baby girl was born. 🙂
I hope you'll share this list of 'things to do when you find out you're pregnant' list with your expecting friends! 🙂