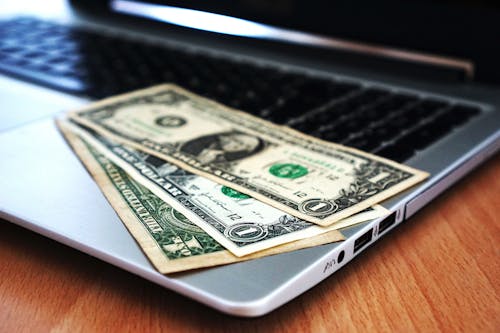 Seriously, how many times have you woken up and dreaded the thought of having to go to work? Every day you tell yourself- 'I need to find ways to make money online so I can quit my job.' This was my life for so long; I couldn't ever see myself leaving the corporate routine. After all, isn't this how it's supposed to be?
You get married, buy the house, have a baby and work at the same job until it's time to retire. How boring does that sound! Where is there any time to actually live life when you're stuck in the routine of work?
I'm not saying that I'm opposed to working, but I love the idea of actually getting to live life with my family. For this reason, I told myself I was not returning to work once my maternity leave was up.
I searched the internet, night and day, looking for ways to make money online. I was determined to find a way to replace my income!
I'm happy to report that my baby is now four-months-old and I have not needed to return to work!
Am I raking in the big bucks? Not just yet, but I will get there soon. 🙂 As a matter of fact, I have a list of goals for my business I'll be sharing in a couple of weeks.
Anyway, if you're anything like me- you're anxious to get started on something that will allow you to stay home and make money.
So, let's get started on LEGIT ways you can make money from home! Let me know if you've tried any of these or if you have any ideas you'd like to add. I'd love to hear what's working for you!
1. Blogging
We'll go ahead and start with the most obvious. You've heard it a million times- Start a blog now! But, can this really turn into full-time money? Heck yes! Let me tell you something- there is NO LIMIT when it comes to how much you can make blogging. You read that right! NO LIMIT! Yes, you can become a millionaire JUST from blogging.
I'm not going to tell you to start a blog and expect to be a millionaire in a few months. It takes hard work and dedication; it's NOT impossible.
Have a blog already and you're tired of not getting any blog views? Check out My Pinterest e-course – only $32 ($97value)! Learn the strategies I used to get 3k my FIRST-month blogging! Don't miss out on this amazing offer!
The nice thing about blogging is that there are SO many ways you can make money. The goal of having a successful blog is making passive income.
What is Passive Income?
When I finally came out from living under a rock, I did research on how to make money blogging and the number one way is to generate passive income. Okay…so how do you do this and what in the world is passive income? Those were my questions, anyway.
Passive income is when you're making money in your sleep. I'm not joking! This is when you're able to create a product or use affiliate links to generate continuous income from posts/ products you write once and update as needed.
Ok, Ashley. Will you tell me how to make money blogging, already?
I will breakdown the top three ways to make money blogging- here it is!
Affiliate Marketing- Don't just go with any affiliate company. You need to find high paying companies! There are a ton of companies willing to pay top dollar for their brand to be promoted by you! (Another future post to come on this. 🙂 )
ebook/Courses/Printables- Have something you know how to do and you know it would benefit someone else? Start a course! Teachable makes it SO easy to create your course, and you can start for FREE! Click HERE to get started with Teachable now!
Have you been using a planner/ budget sheet and you've been using that has worked really well for you? Sell it! Check out my post Take Control Of Your Finances Now And Get out of Debt! to get an idea on how to go about creating a printable.
Ads- I left this one for last because there has been some debate on whether you should be putting ads on your website or not. Honestly, this is your preference, as both sides make a valid point. Bottom life, do you like downloading games only to keep clicking the 'x' on an ad that keeps getting in the way of your game? I know I don't! Consider using ads, in the beginning, to start monetizing your blog, and maybe steer clear of an ad overload once you've found a way to generate income in other ways.
What you can make blogging: The sky is the limit if you're willing to put in the work!
If this sounds like something you're interested in, check out 'Why You NEED To Start A Blog Now If You Want To Live Your Dream Life' for the exact steps on how to start your own blog today!
2. Freelancing
Although freelancing will take some skill, it's not something you can't learn on your own. Yes, there are a lot of great courses on Pinterest, but there are also good free courses you will come across. However you decide to brush up on your writing skills, give freelancing a try. This is something you can get done during your baby's nap and would allow you to make money from home!
Just keep in mind- You will get rejections, and that's OKAY! You learn, and you move forward to the next client.
One of the websites I recommend you start off on is Upwork. This free website allows you to bid on freelance jobs posted by clients which can range from data entry jobs to requesting VA services. This would be great to start off with until you're able to create a name for yourself and start selling your services on your own!
What you can make freelancing: $21-$100hr/ $100-250 per post!
3. Usertesting
This was one of those websites I stumbled upon after hours and hours of searching for online jobs. Usertesting is a website that pays you to visit assigned websites, complete certain tasks all while you're recorded speaking your thoughts about the website out loud. That's it!
The only requirement for this to record when you don't have any background noise; the customer will be listening to the recording for feedback.
What you can make on Upwork: $10each test/ $60 for live conversations
4. Squadhelp
Another website I stumbled upon. This will take a little creative thinking, but if you have that- you can make good money with this company!
This company pays you to help customers come up with business names, logo or designs for the customers' company. Although it takes some creativity, this would be a great side hustle while you're working on something else.
What you can make with Squadhelp: Anywhere from $100-$300 per contest you win!
5. Focus Groups
This is where you would focus on online research and provide your feedback to the client. The 'researcher' will take your feedback and apply it to their study, and you get compensated!
There are a few focus group companies out there, but one that I've found works great is Respondent. Once you sign up, you can schedule times that work for you to set up a one-on-one video call or an online survey.
I personally love this one!
What you can make with Respondent: $150/hr +
6. Transcription
As a transcriber, you will be given a set of audio files that need to be typed out accurately; these are usually pre-recorded.
Of course, you'd need to have typing skills as this would require speed and accuracy.
There are three main jobs for transcribers- General, Medical and Legal.
Here's a list of three companies that are searching for transcribers (Although, there are a ton more!):
GoTranscript
What you can make as a transcriber: $45,000/yr.
7. Scoping
I have to admit, this one is pretty neat. As a scopist, you will be editing courtroom files sent to you electronically by court reporters. You will be proofreading, making necessary edits and returning files via the internet.
Check out this post by Linda Evenson on scoping; she even has a FREE-course!
What you can make as a scopist: $4,000/mo!
8. Sell Photos
Have you seen those pretty pins on Pinterest and wonder where the pin creator finds those pictures? Yes, some of the pictures were taken by the creator, but typically they use 'stock photos.' The last thing a content creator wants is to be sued for stealing someone's photo!
How do you avoid that? You purchase stock photos! So, why not take photos and sell them?
You could either go with a 3rd party agency such as IStockPhoto, or you can sell them on your website! Pixistock is an example of a website created by a mom to sell her stock photos!
What you can make selling stock photos: $0.25-$0.45 PER photo!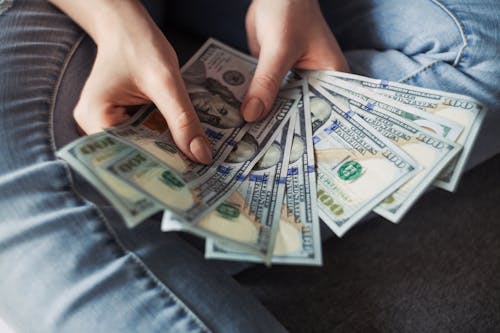 There you have it! If you're dead set on working from home (as I was!), then you're going to make it work regardless. You need to adopt the mindset that you WILL make money; no if, and or buts!
I was determined to make it work as a stay at home mom; I wanted the freedom to make money from home while watching my sweet baby girl play in the background.
I recommend trying out #2 and #5, but definitely #1.
Starting a blog can CHANGE YOUR LIFE forever!
Don't give up, Mama. If you have any other ideas on finding work from home jobs, feel free to leave them in the comments! Let me know what worked for you!